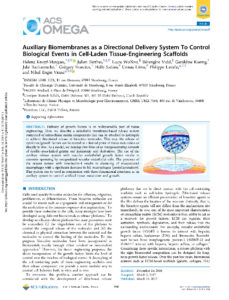 Auxiliary Biomembranes as a Directional Delivery System To Control Biological Events in Cell-Laden Tissue-Engineering Scaffolds.
Helena Knopf-Marques, Julien Barthes, Lucie Wolfova, Berenge ́ re Vidal, Geraldine Koenig, Jalal Bacharouche, Gregory Francius, Helle Sadam, Urmas Liivas, Philippe Lavalle, and Nihal Engin Vrana. 2017.
Controlling Incoming Macrophages to Implants: Responsiveness of Macrophages to Gelatin Micropatterns under M1/M2 Phenotype Defining Biochemical Stimulations.
Camille Dollinger, Albana Ndreu-Halili, Arban Uka, Sonali Singh, Helle Sadam, Toomas Neuman, Morgane Rabineau, Philippe Lavalle, Mehmet R. Dokmeci, Ali Khademhosseini, Amir M. Ghaemmaghami, and Nihal E. Vrana. 2017.


Defended academic degrees